How The Ipiphany SURF Pillars Change The Way You Analyse App Feedback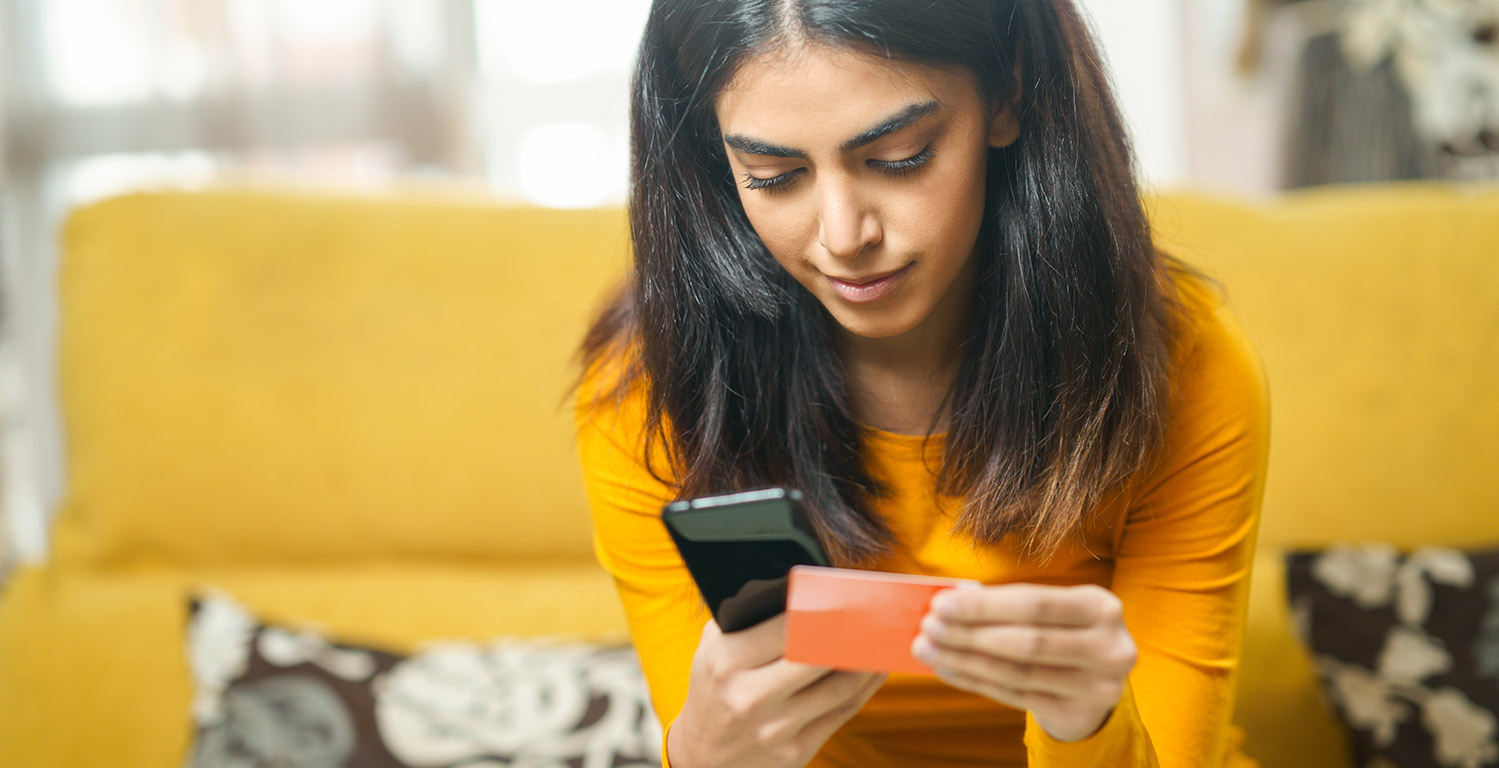 This is the third in a series of blog posts focusing on the Touchpoint Ipiphany Mobile App Performance service. Touchpoint Group offers an analysis against chosen brands in your sector to uncover insights in market positioning, app performance and customer perception resulting in key opportunities to optimise and increase your app's RoI. Today we delve deeper into our SURF Pillar Analysis, expanding on topics covered in the JP Morgan Chase & Co Case study.

What is the SURF Pillar Analysis?
The SURF Pillars; Security, Usability, Reliability, and Functionality, are the key categories we use to analyse app performance. These have been highlighted as the key drivers of customer feedback as analysed by our customer intelligence consultancy team, and are the biggest drivers of a mobile app's success in the market. We address the factors that make up each of the four pillars, how they interact with each other, and how structuring your analysis in this way can reveal insights that are generally missed in unstructured analyses.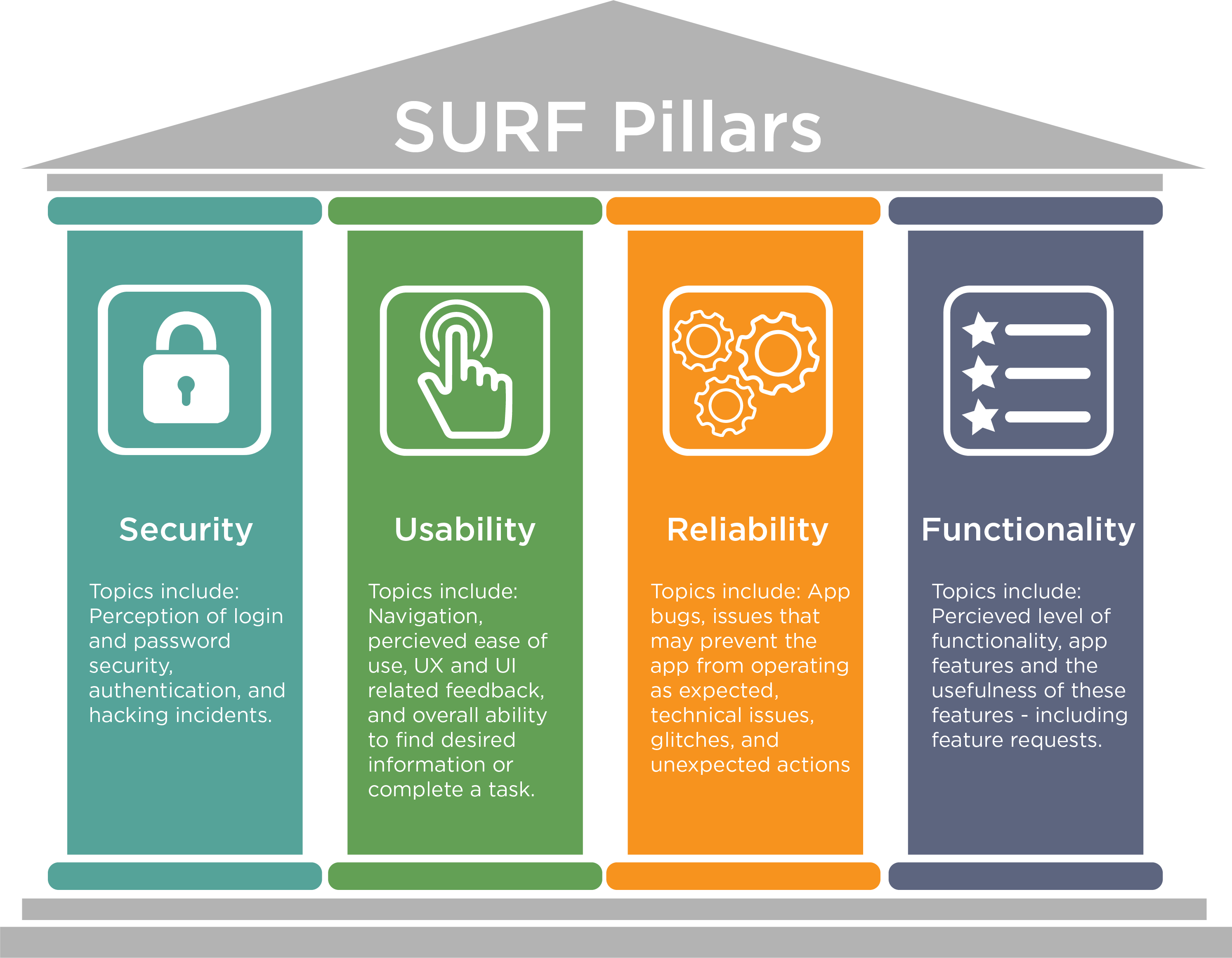 By analysing public app reviews under the SURF Pillars, you'll gain greater insight into how your customers feel about the parts of the app that are most important to them. You'll understand what pain points are causing churn and discover how to focus your efforts on app development initiatives that will drive customer retention. It is important to run a SURF Analysis in conjunction with a competitor analysis in order to get the most out of your data, as these two analyses will provide different insights. You'll find more information on Competitor Analysis with Touchpoint Group's AI Analytics Tool, Ipiphany, here.

How Ipiphany Performs a SURF Analysis
Ipiphany helps you focus your search on the details that matter most in unstructured text feedback, using the SURF Pillars as a framework to categorise information into the most important segments. In the Mobile App Performance service offered by Touchpoint Group, Ipiphany begins processing the app review data into a SURF analysis as soon as it begins uploading, and the analyses are prepared immediately. Here, the high level SURF analysis for Tier 1 US Bank JP Morgan Chase & Co against three competitors in its market provides an overview and allows us to narrow our focus.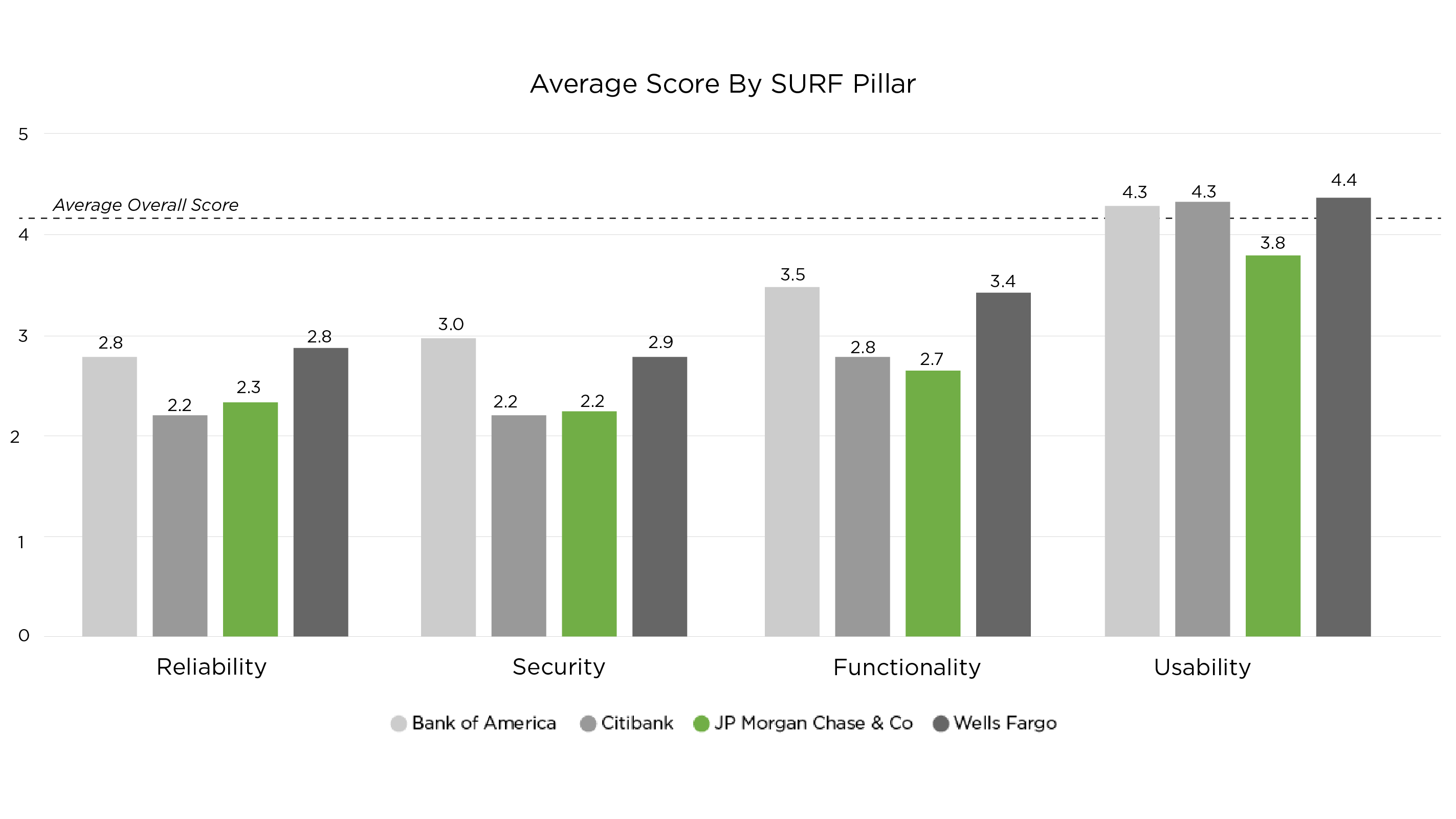 Usability is a strong topic, with each bank's score in this individual category very close to average score. Security and Reliability are similar to each other and fare comparatively poorly, responsible for dragging scores down in all four banks in this comparison. Using Ipiphany, we can expand on this chart to get some higher level indications of how to focus our investigations, but we can also dive even deeper into each one by performing an individual analysis on each - separating out the relevant data and exploring it in more detail.

Insight-Driven SURF Analysis
Usability
The usability pillar discusses topics like navigation, usefulness, user interface, and accessibility features. Customers rely on their bank apps to perform - an app that fails in this category is, to be blunt, not usable. Using the relationship mapping tool, we can understand how these topics play off of, and influence each other. An app might have an accessibility issue that is impacting navigation, or an issue with its appearance that creates a more time-consuming process when the user tries to access certain features.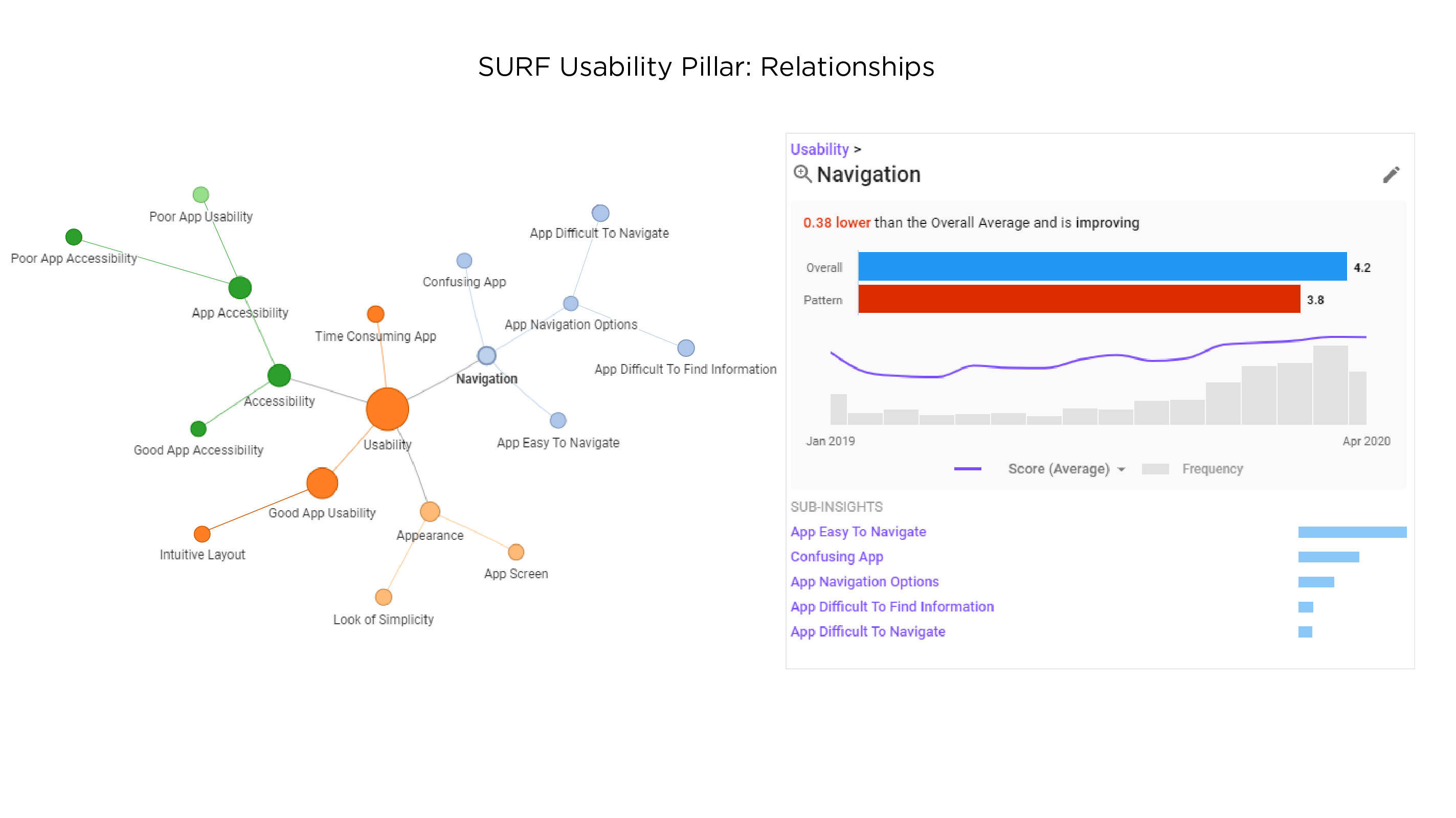 Above, we examine the relationships in the usability data for JP Morgan Chase & Co's app. Expanding on this core concept, we find Appearance, Accessibility, and Navigation coming through as subtopics discussed frequently in this pillar. If we focus on the topic of 'navigation', we discover that although the score is trending upwards with the highest frequency of reviews calling it easy to navigate, there is also heavy discussion in this topic around the difficulty of finding information and the navigation options. Using Ipiphany's powerful NLP technology, we can uncover further layers and identify specific aspects of this pain point, as well as highlighting and quantifying the features that people love about the JP Morgan Chase & Co app. This example represents the highest frequency of comments about this app's usability:

This app is very easy to use and does a great job at letting you see your accounts and the payments/transfers you make with them
Functionality
Perhaps unsurprisingly, functionality is one of most frequently discussed topics in app review data. Whether an app behaves in the way the user expects - and whether it has the tools available that the user expects - can be critical for customer retention. From the high-level SURF analysis, we identified JP Morgan Chase & Co as the lowest performing of the four banks in the Functionality pillar - by investigating topics within this pillar, we can understand why.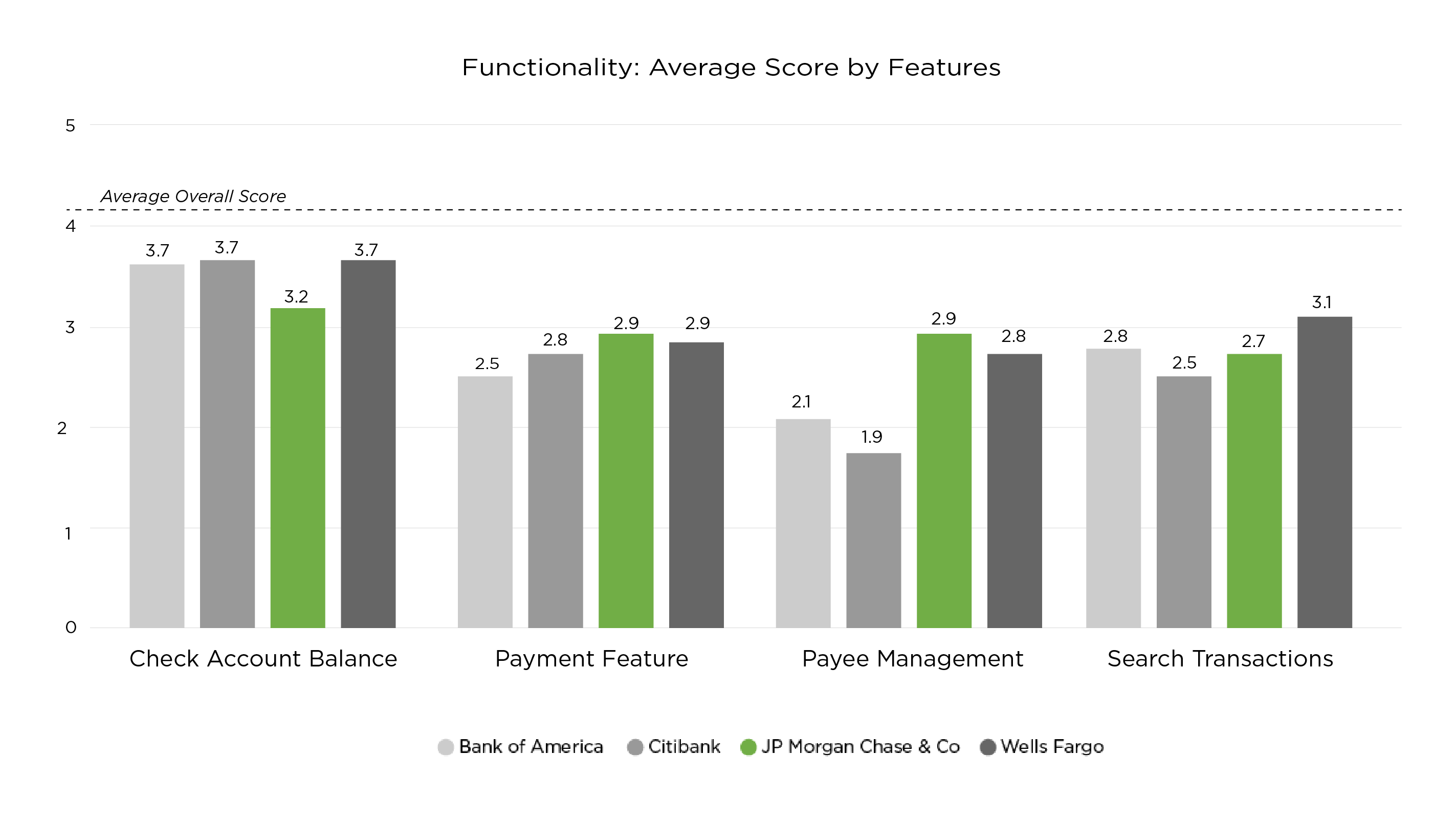 The functionality feature encompasses any discussion of an app's features, plus broader concepts like missing or inadequate features. Using Ipiphany, we performed an analysis of the full list of features that were mentioned in all four banks' reviews. This chart provides a broad overview of how users rate the individual features, and each one offers insight into the user's priorities, frustrations, and desires for the app. As an example, let's delve deeper into "Search Transactions Feature" so we can understand how these scores are driven.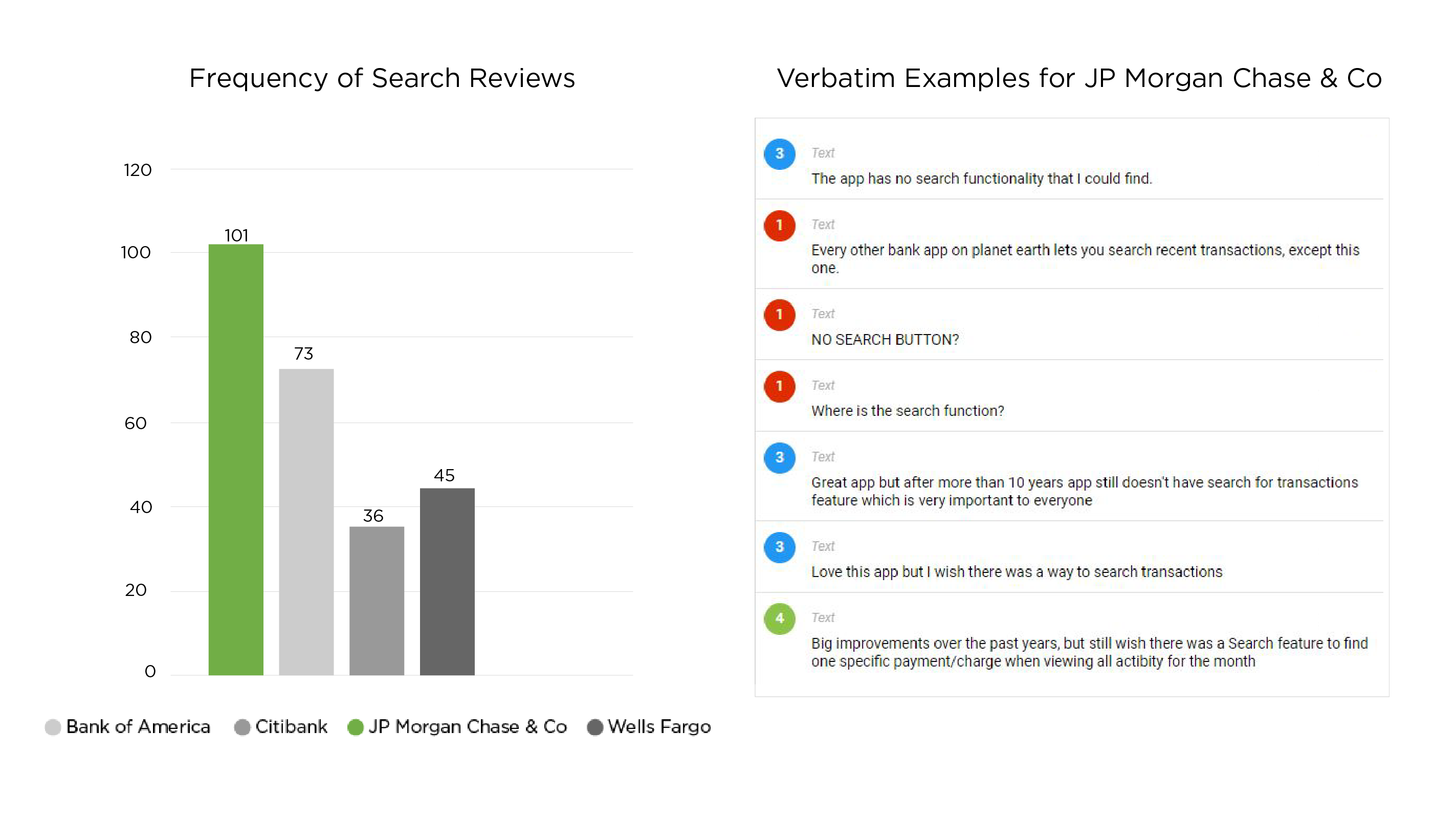 Above, we compare the four competitor banks by the frequency of comments mentioning the Search Transactions feature. Users of the JP Morgan Chase & Co and Bank of America apps are approximately twice as likely to discuss the Search Transactions feature than users of Citibank and Wells Fargo.

We investigated the reason for this disparity further, and discovered that these users are lamenting the complete absence of a search feature, while Citibank and Wells Fargo reviewers, at a much lower frequency, discussed their experience using the search feature. Adding a 'search transaction' functionality to these two banks' mobile apps would improve their positioning against competitors, and improve the customer experience for both user bases.

Reliability
The Reliability pillar covers topics like technical issues, crashes, and bugs - along with broader concepts like updates and how they impact the user's perception of the app. We know from our previous investigations in Benchmarking and Competitor Analysis that reviews discussing app updates are one of the highest contributors to shifts in an app's score over time, so analysing the trends in this data over a specific period can be a useful way to gain further insight into what the other drivers might be.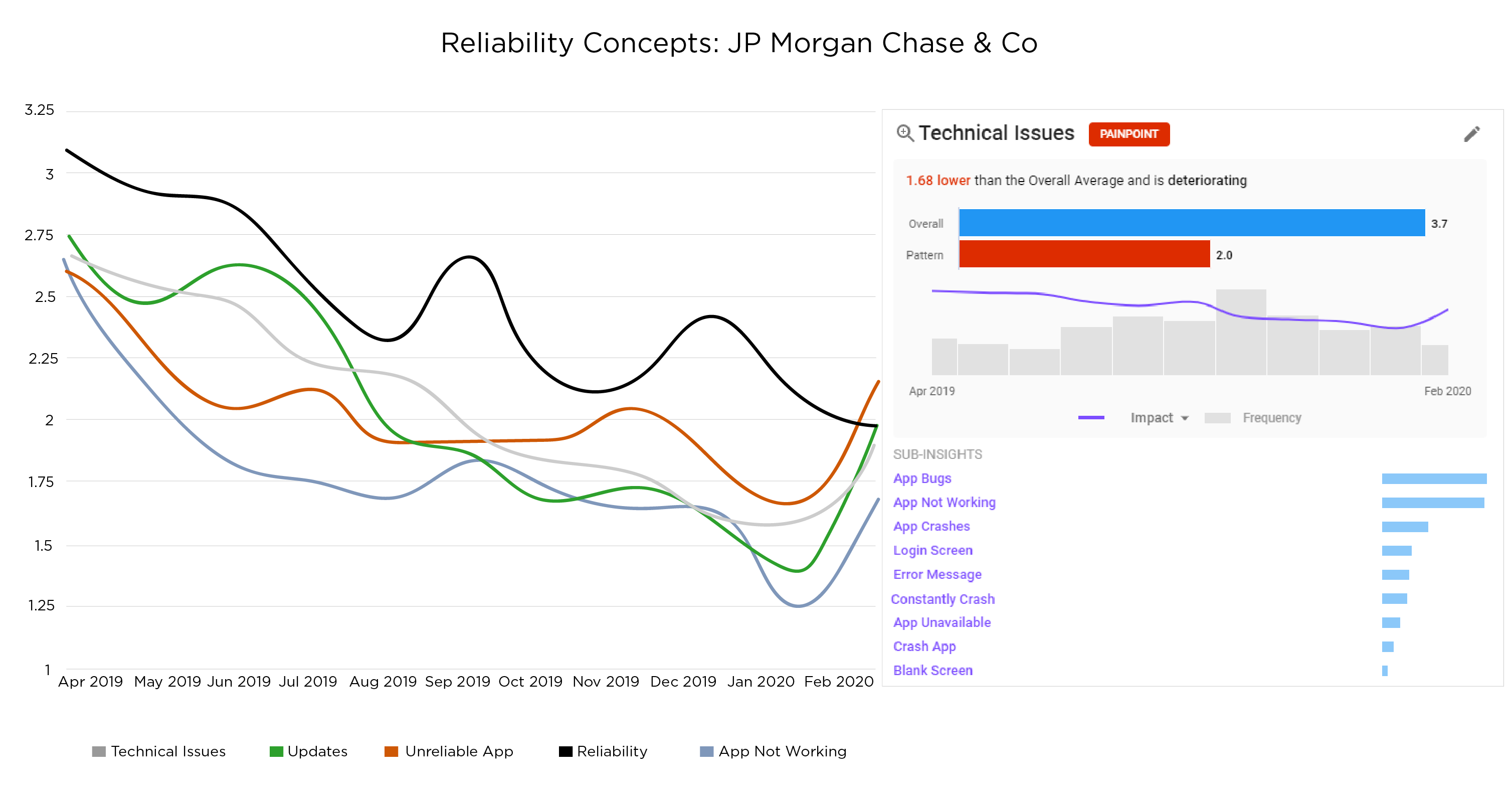 Using JP Morgan, our target bank, we've chosen some of the highest-frequency topics within the Reliability feature: technical issues, updates, instances of the app not working, and compared them against the broader concept of reliability as a whole. Although the overall trend of the chart is deteriorating, each concept is fairly discrete and appears to have its own drivers. At a broad level, the concept of app reliability increases in frequency by 35% at its lowest point on the time series chart - when the user perceives the app as unreliable, they are extremely vocal about it, and more likely to churn. Discovering why customers have this perception is the key to retention.

By further investigating technical issues, we discover that these issues are in some form affecting 12.2% of users. We can use Ipiphany to identify the specific technical issues that customers are facing and to prioritise them in order of individual impact and severity, using the frequently mentioned categories listed at the right to focus our efforts.


Security
App security - and perception of security - is critical for banking apps that handle customer transactions. This pillar covers security features and potential security incidents like data breaches and hacking. Identifying these issues quickly - and investigating past security issues to ensure they don't occur again, is critical in the banking industry. Here, we've picked up the topic "Hacking Incident" - a low-frequency issue impacting all four competitor banks to a small degree, but with an overall pattern of deterioration.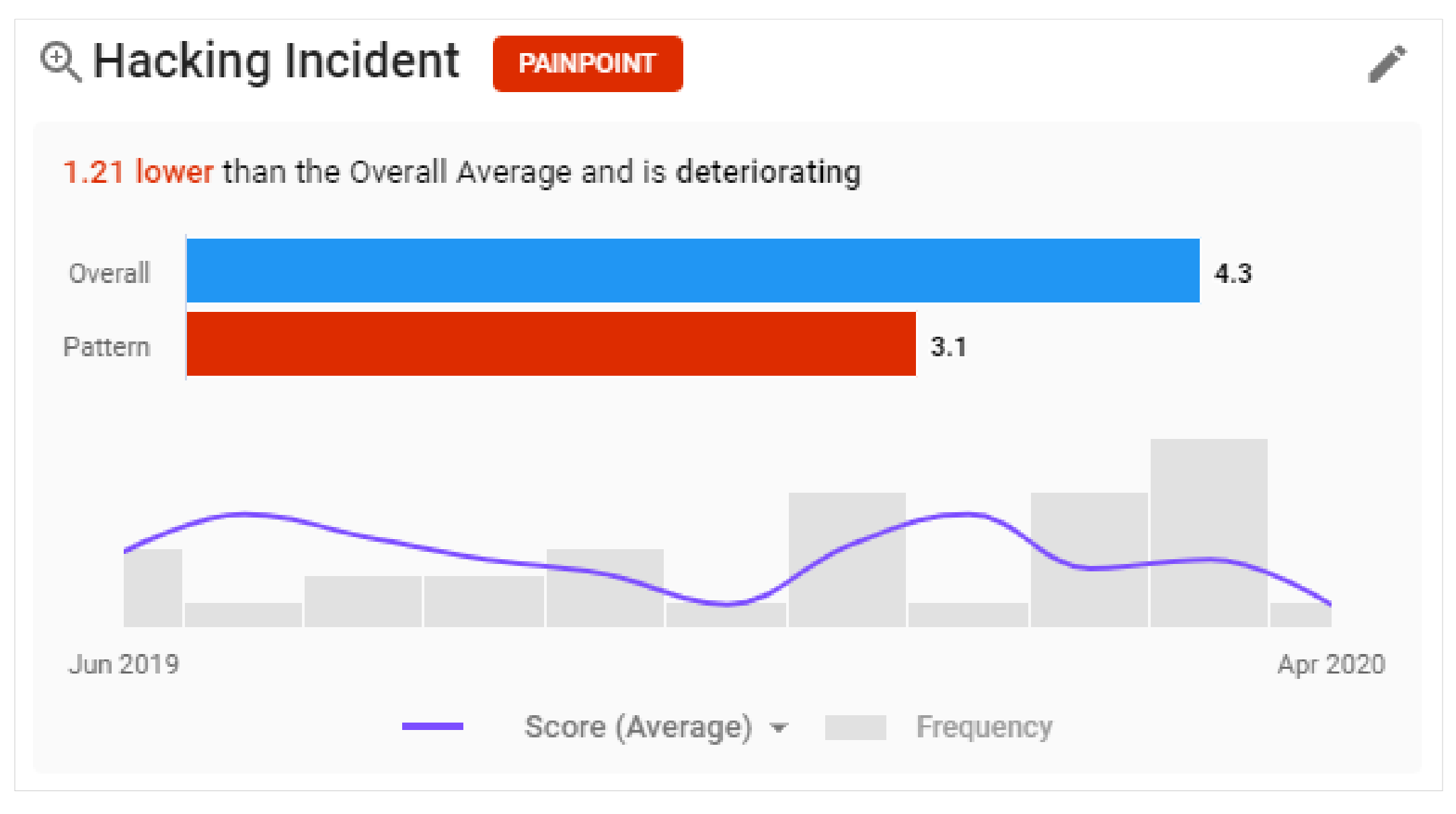 Ipiphany can be incredibly useful for identifying fraud, security breaches, and hacking incidents that banks need to follow up on; fortunately although people discuss past experiences, there were no incidents of hacking through the app in this data.



Gaining a high level understanding of your position in the market and individual aspects that help your app stand apart from competitors is integral for strategic planning, but the ability to find detailed information and understand how it impacts your app score is just as important. Without understanding the facets and drivers - at scale - of your review feedback, you risk missing key improvements that will make the biggest difference in reducing churn.

Next week, we'll dive further into the JP Morgan Chase & Co app with a granular detail analysis, highlighting the level of detail that Ipiphany can provide when asked to understand a specific pain point. In the meantime, sign up to our newsletter and follow us on LinkedIn for the latest updates or schedule a demo using your app data to see how we can help you improve your market position.

* Score will differ to the score found on App stores. This is a combined score from both Google Play & Apple App stores, any reviews not containing comments have been removed from this data set. The date range used for this analysis is January 2019 to April 2020.
Contact Us
Are you looking for an efficient way to analyse you mobile app feedback? Get in touch and let us know what you'd like to learn and we'll tell you how Touchpoint Group can help you make data-driven decisions that benefit your customers.