Insurers recognise more than ever the importance of
reducing friction points

that may lead

customers to consider switching providers

As the battle to gain and retain customers becomes increasingly challenging insurance companies realise that preventing issues that lead to customers looking elsewhere is crucial
Touchpoint Group's CORE Customer Journeys Analytics, Insights, and Reporting
Touchpoint Group's CORE Customer Journeys Analytics:
Leveraging advanced proprietary text analytics and artificial intelligence combined with leading customer experience expertise
Empowering insurance companies to gain deep insights into the experiences of their policyholders
Enabling the identification of pain points and areas for improvement
To remain competitive and relevant in the highly competitive insurance market companies must prioritise the optimisation of customer experiences.
1
Benefit from insights and recommendations that leverage our proprietary text analytics AI (Ipiphany) to harvest and analyse in depth your customer experience feedback
2
Focus on the CORE customer journeys (and subgroups) of Complaints, Onboarding, Renewals, and Exits (attrition) in 'real time'
3
Know exactly what your customers are saying and how they feel about their experiences within your organisation's ecosystem
Overview
Insurance Customer Journeys Analytics & Reporting Solutions
CORE Customer Journeys Analytics provides:
Regular reporting,
Recommendations, and
Support services
Providing insights that can help to very quickly elevate the experiences of customers and the outcomes for insurance companies.
By analysing vast amounts of data, including:
Customer interactions,
Feedback, and
Behavioural patterns
Touchpoint Group provides insurers with actionable insights to optimise every touch point of the customer journey.
Benefit from strategic, tactical, and operational insights into and recommendations regarding what is happening across the customer experience journeys your customers are engaging in across and throughout your ecosystem
Objectively and intricately know what is happening and make well-informed decisions based on comprehensive and intricate analysis of customer feedback without conjecture nor unnecessary delays
Get direct access to our Ipiphany platform-providing you with real time data
Key features and benefits of CORE Customer Journeys Analytics include:
Comprehensive Journey Mapping:

Comprehensive visualisations of moments-of-truth and the end-to-end journeys of policyholders
Insurance companies are enabled to identify critical touch points, pain points, and opportunities for personalised interactions

Real-Time Monitoring:

Insurers gain a deep understanding of customer issues as soon as feedback is given
Intervene proactively and resolve issues promptly

Predictive Analytics:

Predictive analytics algorithms are used to anticipate the needs and preferences of policyholders
Insurance companies are enabled to offer tailored solutions and personalised recommendations

Omnichannel Integration:

Touchpoint Group's CORE Customer Journeys Analytics seamlessly integrates with multiple sources of customer feedback, including (not limited to):

Voice of Customer platforms such as Medallia, InMoment, and Qualtrics

Originating from phone, email, chat, and public reviews

Other sources of data can include public review sources such as TrustPilot

Insurance companies are enabled to deliver consistent experiences across all touch points

Continuous Improvement:

Through ongoing data analysis and performance tracking insurers can continuously refine and optimise their customer journeys, resulting in:

Enhanced customer satisfaction,
Loyalty, and
Retention
The modern insurance landscape demands a customer-centric approach that prioritises convenience, personalised experiences, and optimised customer journeys within the ecosystem(s) of a customer's chosen insurance provider(s).
When providing largely intangible promises designed to provide peace of mind and support it is extremely important to have:
A single view of the customer…
Knowledge about customer experience journeys in your ecosystem,
The moments-of-truth experiences, and
The resulting customer sentiment
It has become significantly easier for customers to conduct product and price comparisons and switch providers.
Once customers begin searching for alternatives, the battle to retain them is already halfway lost!
The ease with which customers can switch providers has drastically changed the dynamics of the industry.
Insurers are focusing evermore on enhancing the customer experience to reduce friction points that prompt customers to consider exploring other options.
Reporting
CORE Customer Journeys
Get granular detail…
Focus on the journeys that are the most important to your customers and where those journeys are doing well or breaking down - analysed at the components level and overall ecosystem journey level.
Benefit from knowing the sentiment of your customers in detail.
Know in real time where you are underperforming and what you need to do to improve.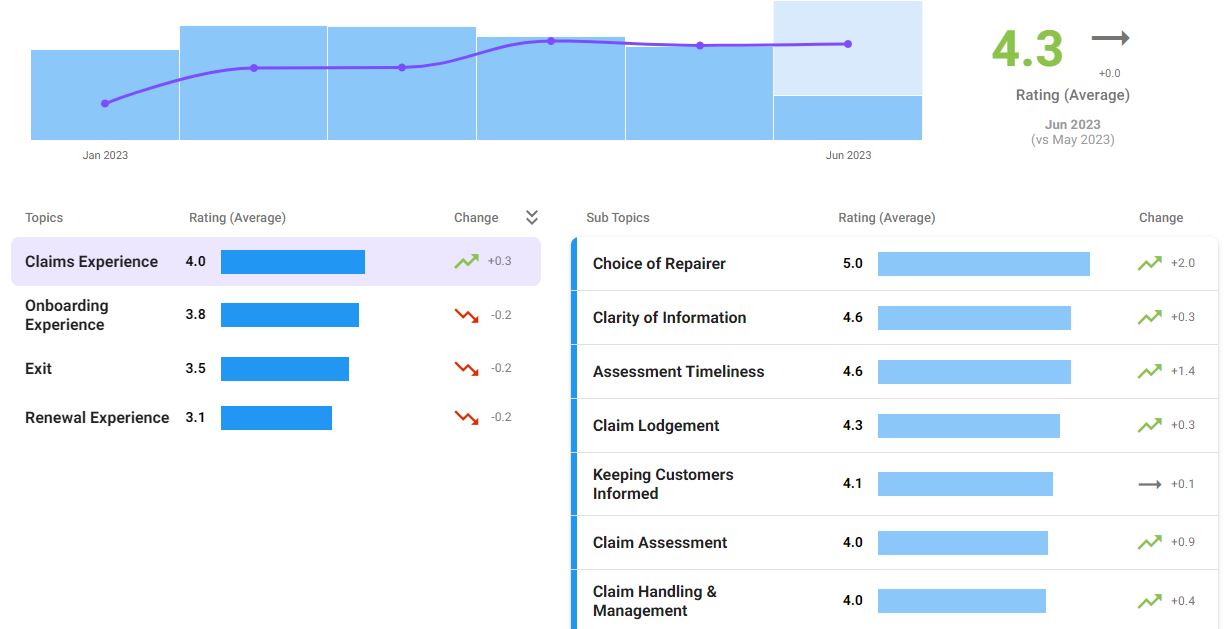 Unparalleled

Comprehensiveness and Depth of Analysis: CORE Customer Journeys Analytics
CORE

CX Journeys + Supporting Subcategories

The key moments of truth in a customer's journey

What complaints are arising and how well they're being addressed

How customers feel about your onboarding process. Is it potentially derailing overall acquisition numbers?

Customer acquisition is hard. Retention is critical. Is your policy renewal experience where it needs to be?

Attrition….What is the composition of your attrition? Are your attrition levels unusually high? What is driving your attrition experience?

Our CORE Customer Journeys Analytics for insurance companies considers 4 key elements of insurance customer journeys through leveraging our proprietary text analytics AI and our leading CX expertise.

There are also an array of subtopics that are incorporated into the 4 key components - ensuring that the journeys of your customers are comprehensively analysed and the right insights are unearthed in a timely manner so you can make well-informed decisions in real time.

Benefit from our analytics, reporting, and support & consulting services to optimise your results.
Case Study
How banks can leverage customer feedback to gain insights into app performance
JP Morgan Chase & Co is one of the largest banking institutions in the world. Using publicly available review data, we've extracted insights and provided recommendations to improve their banking app and position it to compete against other banks in the category.
Read case study
Book a demo today
See how we can provide you with the best approach to fit your needs