Why you need the
MCXA Report
Mobile banking is fast becoming the 'front door' of the banking experience for customers, and more recently the most influential channel of choice for finance management
The MCXA report is a report that is especially beneficial if you're leading the strategic direction of your organisation's banking app and/or your bank's overall customer experience programme, for example, Chief Digital Officers.
The report empowers winning strategic planning for your banking app through providing expert analytics, insights, reporting, and recommendations driven from detailed, comprehensive, robust analysis based on an enormous amount of banking app user feedback - providing valuable knowledge about your competitive landscape.
MCXA Report:
1
Get empowered through comprehensive insights and recommendations on banking apps to formulate and implement robust strategic plans that optimise your banking app.
2
Know how your banking app is performing and benchmark against others in the local and global competitive landscape (we gather data daily and 1+ million pieces of feedback per annum).
3
Benefit from having global experts in banking app customer experience working with you - providing a strong empirical base from which you build your strategic plans.
About MCXA
Unparalleled

coverage

We track 60+ bank apps across 4 leading markets to uncover who is leading and what it takes to win in your segment based on global customer experience excellence.

Revel in the additional benefits of creating a holistic banking app customer experience analytics programme by combining the MCXA to great effect with one or more of our tactical and/or operational products to guide and support your strategies. Providing you with:
Access to monthly reporting providing analytics and recommendation
Consultation, training, and support services
Direct access to our AI platform to have the data at your fingertips whenever you want
Learn more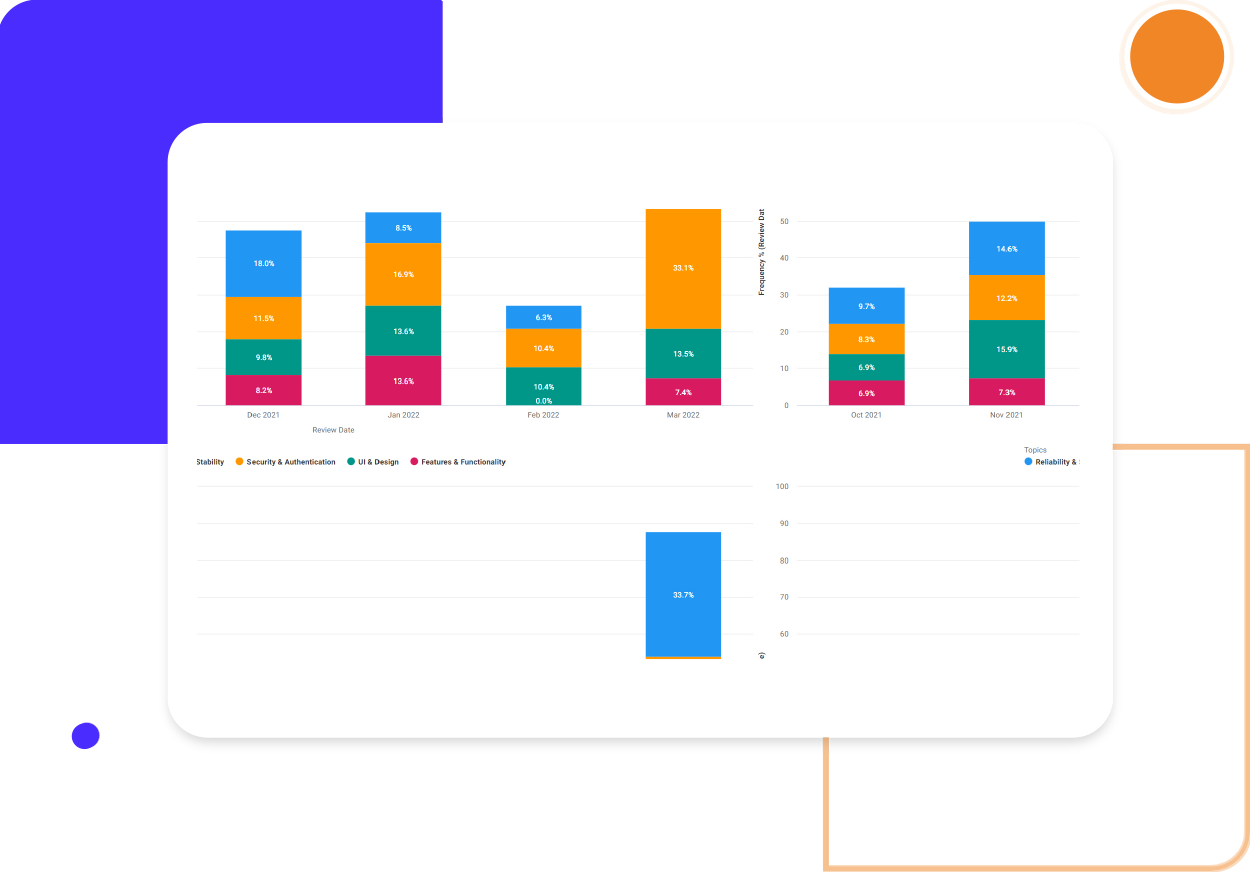 Our coverage of customer feedback is second-to-none
We're experts in the banking app landscape worldwide
Across 8
geo-segments covered
Banking app comments
analysed annually
*The most important are included in this report.
Explore
More of our
banking app

reporting solutions
The MCXA report provides exceptional benefits in its own right and can also be combined to great effect with one or more of our tactical and/or operational products
Tactical & Operational
Banking App Customer Experience Solutions
Leverage in conjunction with the MCXA report or use them independently.
Be empowered to maximise your banking app through our range of banking app analytics and reporting tools. Supported by consulting and training services designed to ensure you are getting the best results from your banking app nomatter what stage you are at. If you're a stakeholder in the introduction, maintenance, and/or changes to a banking app these are the solutions for you.
Learn more
Tactical
Foundational Attributes Reporting
An annual subscription with reports produced monthly.
Leveraging SURF analysis to ensure you're getting the foundational attributes right. Foundational attributes examples include, but are not limited to Open App & Authenticate, Update Mobile App, App Usability, App Operability, App Reliability, App Functional Suitability, App Performance, and App Security.
Book a demo
Tactical
Core Customer Journeys Reporting
An annual subscription with reports produced monthly.
Analysing and reporting on the core customer journeys available via your app. Core customer journeys include, but are not limited to Check Account Balance via App, Monitor Account Activity via App, Transfer Between Accounts via App, and Pay Bills via App.
Book a demo
Book a demo today
See how we can provide you with the best approach to fit your needs