Menu
Our Dedication to Data Security
Touchpoint Group is ISO/IEC 27001 certified and manages information security within a framework based on related standards such as ISO/IEC 27017 (Code of Practice for Information Security Controls Based on ISO/IEC 27001 for Cloud Services) and ISO/IEC 27018 (Protection of Personally Identifiable Information).
"Internationally recognized ISO/IEC 27001 is an excellent framework which helps organizations manage and protect their information assets so that they remain safe and secure. It helps you to continually review and refine the way you do this, not only for today, but also for the future." - Learn more about ISO 27001 with BSI.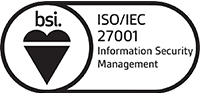 ISO 27001
Contact Us
Fill out your details in our contact form and we'll help answer your questions!