Managed Marketing Services
Why hire a marketing agency just to manage your third-party marketing platforms? TouchpointMX not only provides you with the best marketing automation tools on the market, but we have a fully managed marketing agency service available too.
Get the most out of TouchpointMX by engaging with those who know it best – the creators of the platform. We know our clients almost as well as they know themselves, so it makes sense to outsource your automation to those you already trust.
TouchpointMX is based here in New Zealand, is ISO 27001 certified and trusted by large corporates and banks, plus many retail clients, to deliver exceptional digital solutions and drive customer engagement.
We can be an on-call extension to your team or an in-office based person to help deliver any aspect of the digital marketing journey from initial concept through to delivery and reporting.
Our Service
Our service includes but is not limited to;
Digital Campaign Management - using your existing campaign system or our Marketing platform
Email and/or SMS Creation and Delivery Management
Email/web design to existing brand guidelines
Digital Journey Planning and Automation
Project Management
Digital Asset Testing and Quality Assurance
Data Analysis and Segmentation
Customer/Staff Survey design and delivery
Technical Solution Scoping and Documentation
Third Party Digital Management (we can manage your third-party provider to ensure your digital solutions are delivered on time, on budget, and to a high standard)
Training: we can work with and train your team on digital marketing best practice relating to email marketing, SMS marketing, NPS and Online Surveys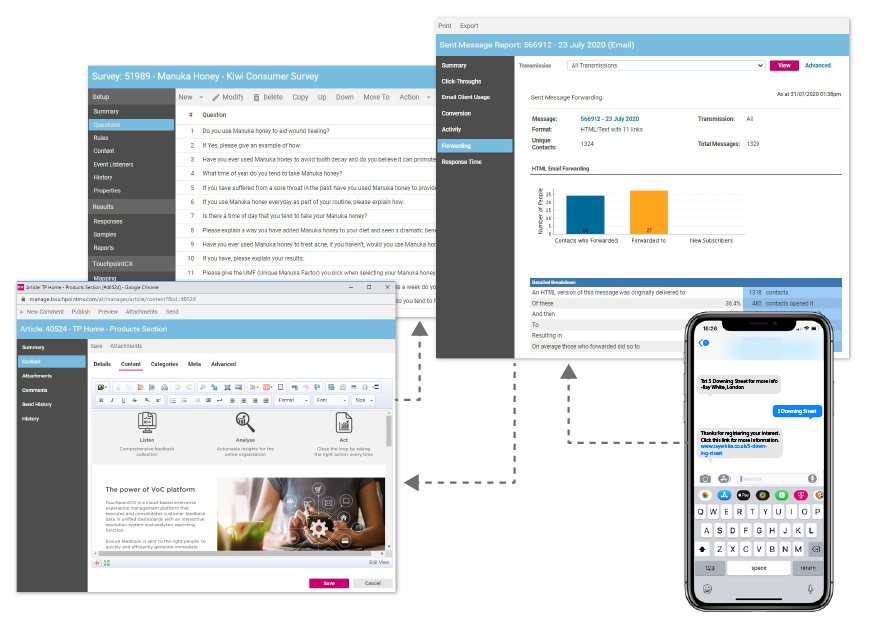 The Outcome
This support service is designed to reduce team costs, maximise impact of marketing campaigns and ensure you are getting the most out of your marketing budget and spend. Better yet, by utilising TouchpointMX inhouse service we take all the necessary precautions to ensure your data is captured, managed, and stored safely.
The benefits of utilising this service are:
Support teams who have had to restructure and reprioritise roles and objectives and allows existing teams to stay focused on driving business-critical initiatives
On-call access to experienced and knowledgeable digital marketers who specialise in your specific marketing automation platform and industry
Reduced risk, resources, and onboarding issues by utilising further an already established partner who knows your business and brand
Flexibility in solution delivery and access to a variety of roles such as developers, campaign managers, designers etc.
Cost savings for the business by getting the most out of your established marketing platforms
Customisation and curation of both ther service and the platform to best suit your specific business needs
How Touchpoint Delivers The Service
Our marketing support service is completely tailored to individual business needs. You will need to be using (or interested) in using one of TouchpointMX's solutions to gain full value. The service can be offered as a monthly retainer, contract, or hourly rate dependant on resources needed.
This service is designed for a huge range of roles, industries and businesses, whether you're an established team, or just starting out we're able to ensure you get only what you need. Check out a detailed list of the range of roles, industries, solutions we can offer, plus a range of use cases supporting ROI.
As a valuable client to Touchpoint Group you'll also have 'bolt-on' access to our Customer Experience Platform (TouchpointCX) and our AI Customer Analytics Insights platform (Ipiphany) as and when needed to ensure you're getting the best return and insights from your customer-facing campaigns.
Case Study
Creating an agile working environment
TouchpointMX helps ANZ scale their approach to customer communications in the face of COVID-19, and adapt an agile practice built for the future.
Request Pricing
Give us some details about your business or what you're looking for and we'll tailor a custom digital marketing solution that meets your needs.