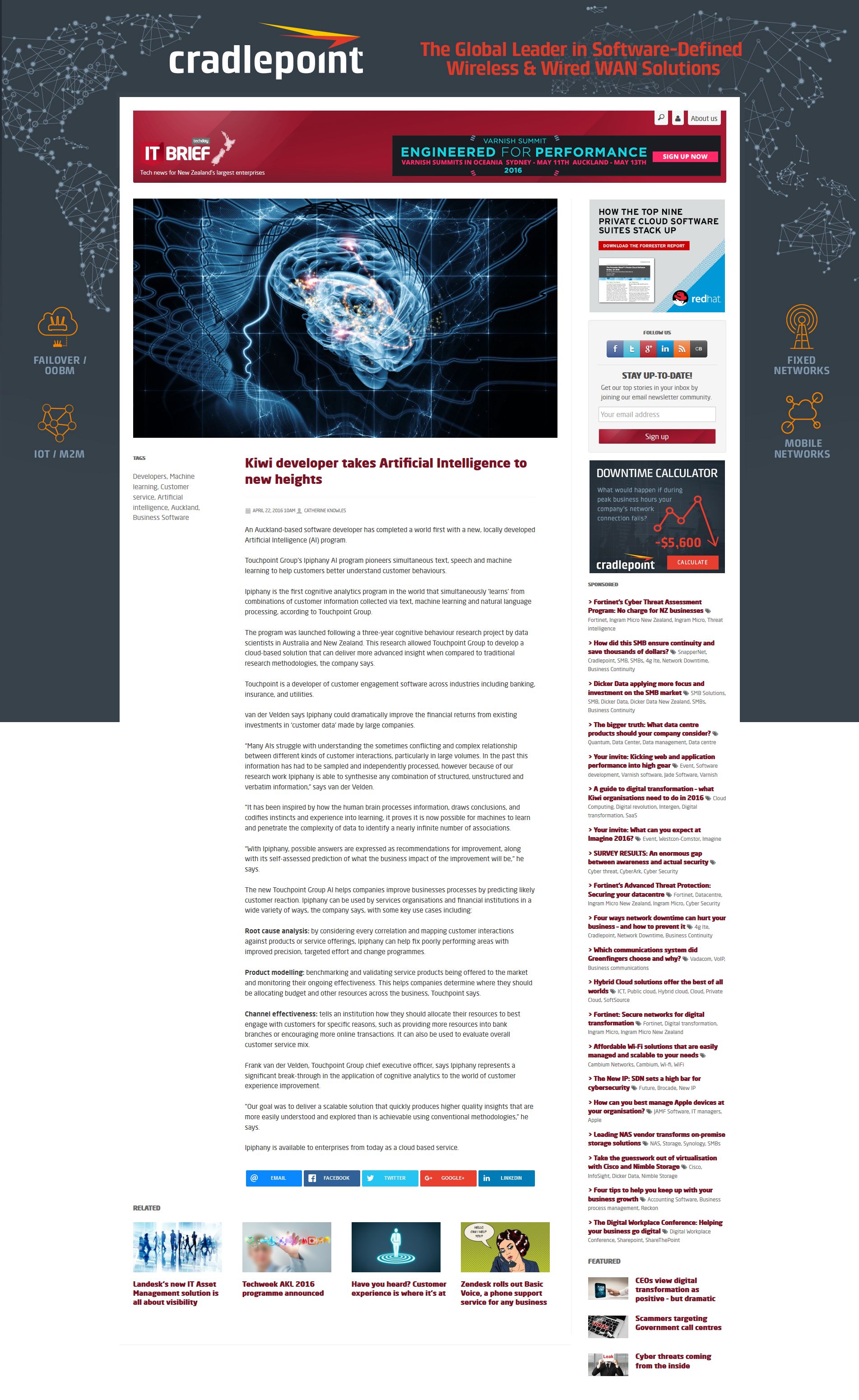 Kiwi developer takes Artificial Intelligence to new heights
An Auckland-based software developer has completed a world first with a new, locally developed Artificial Intelligence (AI) program.
Touchpoint Group's Ipiphany AI program pioneers simultaneous text, speech and machine learning to help customers better understand customer behaviours.
Ipiphany is the first cognitive analytics program in the world that simultaneously 'learns' from combinations of customer information collected via text, machine learning and natural language processing, according to Touchpoint Group.
The program was launched following a three-year cognitive behaviour research project by data scientists in Australia and New Zealand. This research allowed Touchpoint Group to develop a cloud-based solution that can deliver more advanced insight when compared to traditional research methodologies, the company says.
Touchpoint is a developer of customer engagement software across industries including banking, insurance, and utilities.
van der Velden says Ipiphany could dramatically improve the financial returns from existing investments in 'customer data' made by large companies.
"Many AIs struggle with understanding the sometimes conflicting and complex relationship between different kinds of customer interactions, particularly in large volumes. In the past this information has had to be sampled and independently processed, however because of our research work Ipiphany is able to synthesise any combination of structured, unstructured and verbatim information," says van der Velden.
"It has been inspired by how the human brain processes information, draws conclusions, and codifies instincts and experience into learning, it proves it is now possible for machines to learn and penetrate the complexity of data to identify a nearly infinite number of associations.
"With Ipiphany, possible answers are expressed as recommendations for improvement, along with its self-assessed prediction of what the business impact of the improvement will be," he says.
The new Touchpoint Group AI helps companies improve businesses processes by predicting likely customer reaction. Ipiphany can be used by services organisations and financial institutions in a wide variety of ways, the company says, with some key use cases including:
Root cause analysis: by considering every correlation and mapping customer interactions against products or service offerings, Ipiphany can help fix poorly performing areas with improved precision, targeted effort and change programmes.
Product modelling: benchmarking and validating service products being offered to the market and monitoring their ongoing effectiveness. This helps companies determine where they should be allocating budget and other resources across the business, Touchpoint says.
Channel effectiveness: tells an institution how they should allocate their resources to best engage with customers for specific reasons, such as providing more resources into bank branches or encouraging more online transactions. It can also be used to evaluate overall customer service mix.
Frank van der Velden, Touchpoint Group chief executive officer, says Ipiphany represents a significant break-through in the application of cognitive analytics to the world of customer experience improvement.
"Our goal was to deliver a scalable solution that quickly produces higher quality insights that are more easily understood and explored than is achievable using conventional methodologies," he says.
Ipiphany is available to enterprises from today as a cloud based service.