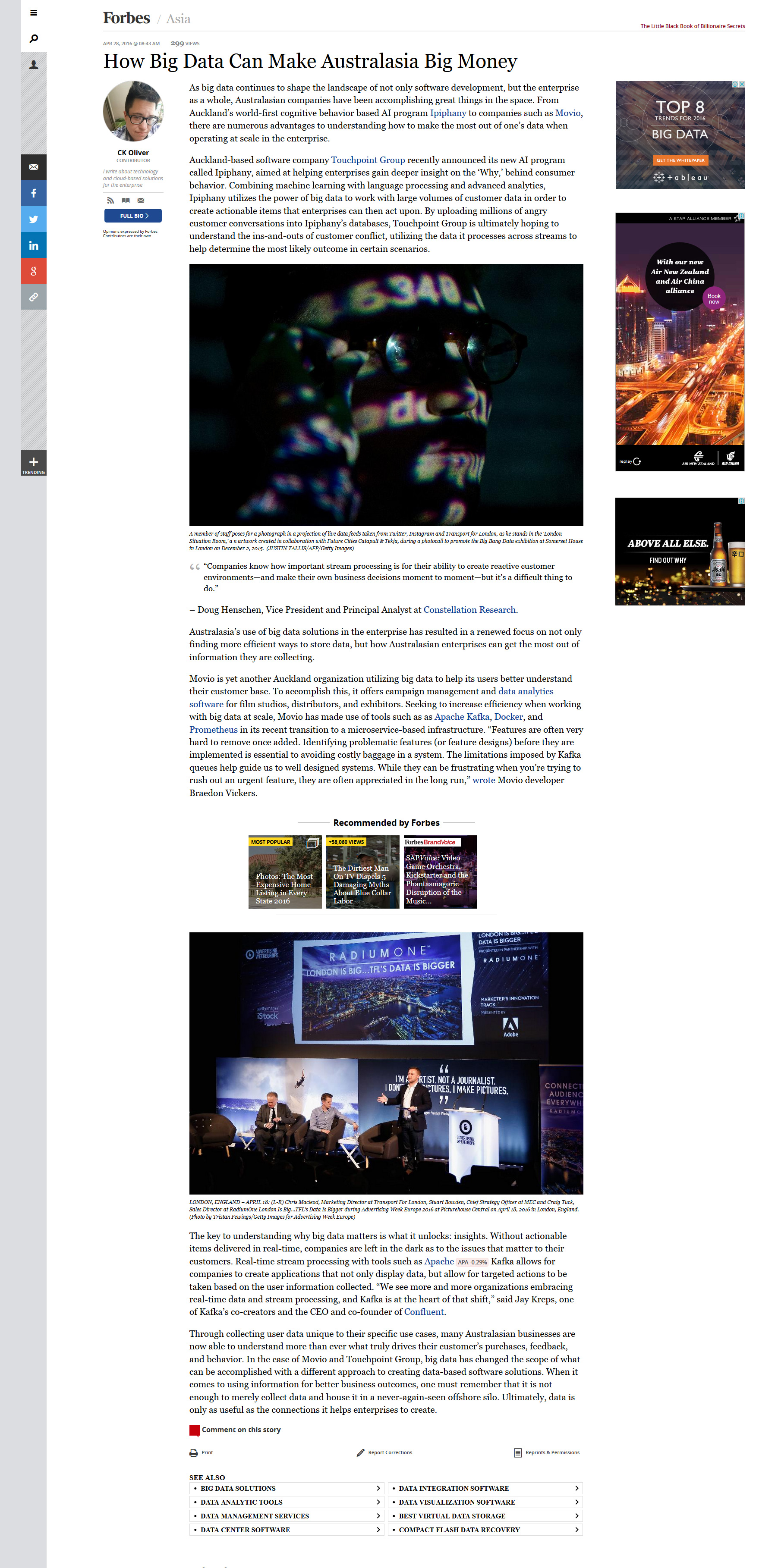 How Big Data Can Make Australasia Big Money
As big data continues to shape the landscape of not only software development, but the enterprise as a whole, Australasian companies have been accomplishing great things in the space. From Auckland's world-first cognitive behavior based AI program Ipiphany to companies such as Movio, there are numerous advantages to understanding how to make the most out of one's data when operating at scale in the enterprise.
Auckland-based software company Touchpoint Group recently announced its new AI program called Ipiphany, aimed at helping enterprises gain deeper insight on the 'Why,' behind consumer behavior. Combining machine learning with language processing and advanced analytics, Ipiphany utilizes the power of big data to work with large volumes of customer data in order to create actionable items that enterprises can then act upon. By uploading millions of angry customer conversations into Ipiphany's databases, Touchpoint Group is ultimately hoping to understand the ins-and-outs of customer conflict, utilizing the data it processes across streams to help determine the most likely outcome in certain scenarios.
"Companies know how important stream processing is for their ability to create reactive customer environments—and make their own business decisions moment to moment—but it's a difficult thing to do."
– Doug Henschen, Vice President and Principal Analyst at Constellation Research.
Australasia's use of big data solutions in the enterprise has resulted in a renewed focus on not only finding more efficient ways to store data, but how Australasian enterprises can get the most out of information they are collecting.
Movio is yet another Auckland organization utilizing big data to help its users better understand their customer base. To accomplish this, it offers campaign management and data analytics software for film studios, distributors, and exhibitors. Seeking to increase efficiency when working with big data at scale, Movio has made use of tools such as as Apache Kafka, Docker, and Prometheus in its recent transition to a microservice-based infrastructure. "Features are often very hard to remove once added. Identifying problematic features (or feature designs) before they are implemented is essential to avoiding costly baggage in a system. The limitations imposed by Kafka queues help guide us to well designed systems. While they can be frustrating when you're trying to rush out an urgent feature, they are often appreciated in the long run," wrote Movio developer Braedon Vickers.
The key to understanding why big data matters is what it unlocks: insights. Without actionable items delivered in real-time, companies are left in the dark as to the issues that matter to their customers. Real-time stream processing with tools such as Apache APA -0.29% Kafka allows for companies to create applications that not only display data, but allow for targeted actions to be taken based on the user information collected. "We see more and more organizations embracing real-time data and stream processing, and Kafka is at the heart of that shift," said Jay Kreps, one of Kafka's co-creators and the CEO and co-founder of Confluent.
Through collecting user data unique to their specific use cases, many Australasian businesses are now able to understand more than ever what truly drives their customer's purchases, feedback, and behavior. In the case of Movio and Touchpoint Group, big data has changed the scope of what can be accomplished with a different approach to creating data-based software solutions. When it comes to using information for better business outcomes, one must remember that it is not enough to merely collect data and house it in a never-again-seen offshore silo. Ultimately, data is only as useful as the connections it helps enterprises to create